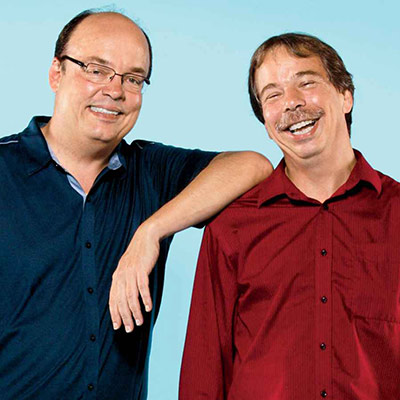 In 2007 the founders of Orange Marmalade, Inc. (the company behind Orange Manager and Orange Mailer) sat down at a small table and hashed out the details of their new company...
That company, known as Gilligan & Ferneman, LLC. came about because Mike and Bill realized they had been helping others make money on the internet while they continued to push forward essentially getting paid by the hour. Each had their own company, and thru a series of events they each ended up with the same client.
Mike and Bill decided that it was time to join forces, and with the help of that single client, they launched their first retail website. Their shipping department consisted of Bill's son packing orders once a week or so while using the backyard shed as the "warehouse". The main office was the covered porch.
As time progressed they slowly saw orders increase and from listening to their customers, they stepped out with a second site with a slightly different focus. Then again - about a year later, another site with different products. During this time, they saw orders increase and had to move from the shed to the garage. And then from there to an actual office, to a bigger office then to a 5,000 s/ft warehouse and finally to 12,000 s/ft in Kissimmee, FL.
One day they received a call from a producer of the Oprah Winfrey show. They wanted to feature some of the products on "Oprah's Favorite Things." A few weeks later the disheartening news came in - "Sorry. You did not make the final cut."
While talking with the producer, she mentioned she would pass the information on to the Dr. Oz show. And, in 2011 their mattress pad was featured and the rest they say is history. In 2012 they were ranked the 427th fastest growing company in the country. In both 2013 and 2014 they were again listed in the top 5000 by Inc. Magazine.
During their time of growth, Bill and Mike had one continuing frustration - managing orders. It seemed that every month they were trying some new software, or some new system to try to make shipping simpler and faster, customer support easier, and dealing with multiple logins for everything from taxes to accounting.
Bill - a Full Stack Web Developer (meaning he can code and figure out servers and more) eventually took on a personal goal - making something that might help. By the time the company closed, they had begun using what was called "SAM". Bill named it after his Grandson and said it helped "Sort and Manage" orders.
In December of 2016 Bill and Mike moved on from this company and began seeking a new direction. And thats when it hit them - maybe others could use SAM?
In February of 2017 they reached out to a trusted advisor and he confirmed that yes - indeed, the numbers would indicate a market. During the drive back from San Diego to Florida, they developed the plan that would become "Orange Manager".
On July 10, 2017 Orange Marmalade, Inc. was officially formed in Nevada with the purpose of "Making technology taste better." Their first product "Orange Manager" is the flagship of this endeavor.
In January of 2018, Mike and Bill were invited to an interview for attendance at the Boomtown Accelerator. It was during this interview that one of the founders stated "You guys are like the Ben and Jerry of E-Commerce."
Even though they did not get accepted, that statement stuck with them. Like Ben & Jerry of ice cream fame, they are taking something we all want (technology) and making it taste better by simplifying the whole process. Orange Marmalade, Inc. will - like their previous company - grow and evolve based on customer feedback. Orange Manager will continue to strive to make shipping simpler and E-Commerce easier. And like those other folks, this company will give back whenever and wherever it can.
Mike & Bill are available for occasional consulting and/or speaking. They enjoy sharing both the things they did right, and the things they did wrong. They can help others avoid the pitfalls, and understand how they climbed from zero to $4 million in sales in under 5 years.